Category Archives:
gun control legislation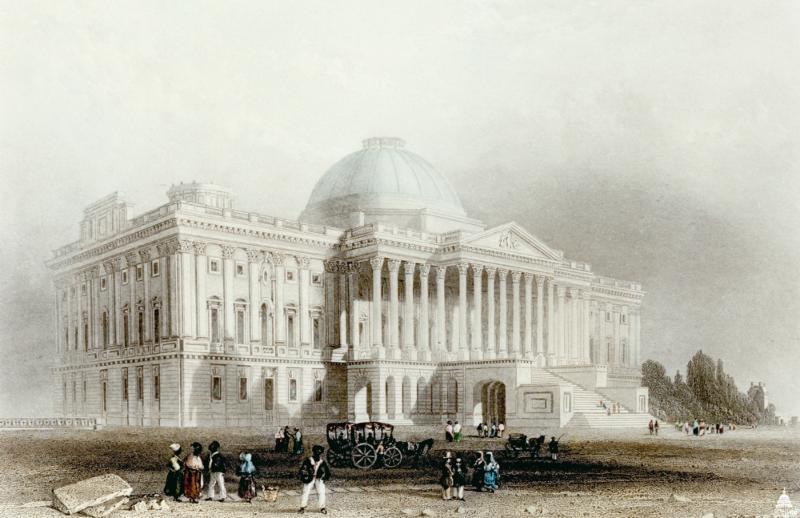 WASHINGTON LEGISLATIVE UPDATE:  
Budget – Health Care – Special Diabetes Program  and Tribal Energy 
On Oct. 5, the House passed a bill for the 2018 budget that lays out the foundation to take advantage of Senate rules for recent tax reform proposals. The Senate allows tax and spending measures to pass with a simple majority. The House budget plan accommodates $203 billion in future spending cuts meant to offset the tax reform's projected $1.5 trillion increase to the deficit. Meanwhile, budget legislation has gone through committee in the Senate, poised for a floor vote later this month. This bill directly allows a $1.5 trillion deficit increase to be written into tax legislation. Republicans believe that the deficit increase will be offset by economic growth but this conclusion has yet to be thoroughly researched.
The House's budget will allow $203 billion in spending cuts. These cuts have yet to be finalized and negotiations will likely be stalled by discussion on the pending tax bill. GOP leaders have made a point of prioritizing tax reform and writing the budget to reflect this emphasis. Senate Republicans are skeptical of tax reform proposals like repealing the state and local tax deduction, but are willing to support the budget to move along tax negotiations. The Senate has asked the Energy and Natural Resources Committee to find $1 billion in deficit savings. These savings would likely come from the opening of the Arctic National Wildlife Refuge to fossil fuel extraction. The two budget proposals expect to balance by 2027, mostly through cuts to federal entitlement in future legislation.
The Senate pulled its most recent healthcare reform effort, the Graham-Cassidy proposal, from the voting schedule, due to a lack of support within the party. The legislation would have removed Medicaid expansion, cost-sharing protections, and premium subsidies. The bill also would have transferred federal trust responsibility over Medicaid to the states. On Sept. 29, President Trump signed into law FAA appropriations that included $37.5 million in funding for the Special Diabetes Program through the first quarter of FY2018. Rep. Mullin (R-OK) has introduced a bill, H.R.3917, which will supplement this funding with $112.5 million for the remainder of FY2018 and $150 million for FY2019.
The House Committee on Natural Resources is waiting to vote on H.R. 210, the Native American Energy Act. The Indian Tribal Energy Development and Self-Determination Act Amendments, S.245 (Hoeven R-ND), has passed through committee and has been waiting for a floor vote since May. The two measures work to support tribal energy independence. The House initiative would streamline the land asset appraisal process, support biomass production, and add tribal consent restrictions for Interior rules on energy production. The Senate bill extends to tribes the state and municipality hydroelectric license preference and DOE energy development loans. DOE would allow inter-tribal organizations to qualify for grants and Interior would provide technical assistance with energy resource development. Additionally, Interior would defer to tribal resource agreements and certified tribal energy development organizations for energy-related leases, rights-of-way, and business agreements. 
See Washington Post Article for further developments
WHITE HOUSE/GOP ANNOUNCE NEW TAX REFORM PLAN:  STILL UNCERTAIN ON THE MESSAGE AND WHAT IT WILL COSTS.
Republicans and the White House announced their tax reform proposal on Sept 27. The reform would create three tax brackets and lower or remove several other taxes, such as corporate income, small business, and estate taxes. A nearly doubled standard deduction would replace most itemized deductions. Trump's announcement of the Republican-led reform effort was accompanied by House Ways and Means ranking member Sen. Neal's (D-MA) comments that a bipartisan effort was necessary and that Democrats needed to support the middle class in light of the reform plan's policies and the President's promise that the rich will not benefit.
On Sept. 26, President Trump negotiated at the last minute with Democratic leaders to leave the top tax bracket rate negotiable. Despite this cooperation, Democratic leaders were skeptical that their other demands would be met. These conditions included improved child care assistance, which was integrated in the reform plan through an increased Child Tax Credit.
The day after the announcement, Democratic Senators Warren (D-MA) and Schumer (D-NY) criticized the plan as favoring the wealthy and similar to past policies based on trickle down economics. These criticisms drew the President's ire and prompted him to dismiss the leadership's goals as unrealistic.  This position is in line with a statement last month signed by congressional Democrats which clearly highlighted the policy stance Democrats would advocate on tax reform.
Paul Ryan (R-WI), Mitch McConnell (R-KY), Senate Finance chairman Orrin Hatch (R-UT), and House Ways and Means chairman Kevin Brady (R-TX) have joined Gary Cohn and Steve Mnuchin of the White House to write the bill. Democratic lawmakers are eager to contribute to the reform proposal but have received mixed reactions to their involvement. While some Republicans have expressed a desire to initiate bipartisan collaboration now, leadership has been cold.
Congressional Republicans, including Rep. Andy Barr (R-KY), have expressed concern over some of the reforms, such as removing state and local tax deductions and lowering the corporate interest deduction. Tensions over "pay-for" provisions in the proposal will also prove to be legislative hurdles. Sen. Corker (R-TN) expressed that any significant increase to the deficit would also hurt the measure. As of Oct. 5, the House passed a budget resolution that would aid the reform effort by providing Senate Republicans with a chance to pass reform with a simple majority through reconciliation.
For tribal interests, the plan has kept the Low Income Housing Tax Credit and tax-exempt debt; both are initiatives that encourage tribal economic development. The reform initiative also includes a five-year period allowing write-offs for depreciable assets. There is opportunity for a tribal pension allowance amid the open possibility of repealing the New Market Tax Credit.
This has been a hard week on Congress and the rest of the Country struggling to grasp the magnitude of the mass shooting in Las Vegas, Sunday night, and the motivation of the killer.  Debate, shifted from the GOP tax reform package release last week, to gun control legislation.   Representative Carlos Curbelo (R-Fla) is looking at introducing  a legislative package to ban Bump Stocks, a tool to convert semi-automatic weapons to fully automatic.  Speaker Ryan, has spoken this week on the issue, and implies the party is looking also at a regulatory rather than legislative fix to the use of Bump Stocks.  The fact either path, is being debated by the GOP is a departure from past positions on gun control, but reflects that the shooting in Las Vegas has a big impact on country and what can be done to prevent future misuse of illegal weapons.
Meanwhile, the GOP is pushing tax reform, and the advantages to both large businesses and individuals.  After, the failure to pass health care reform, to free up revenue for Tax Reform, now the debate is on whether Tax Reform will increase the deficit by reducing tax rates. If Republicans do aim for a deficit-neutral plan, it would make it much more difficult to advance a package that relies on the theory that short-term deficits can lead to long-term economic growth.
Instead, the GOP would be forced to find ways to pay for the tax cuts, inevitably creating a "winners and losers" situation in which some income brackets would see a reduction in their taxes, while others may see an increase. Removing the state and local tax deduction, for example, has become a huge point of debate within the party because some states, like Pennsylvania and New York, might be more adversely impacted than others where the state and local taxes are not as high.
For this update, we will report on the tax reform plan, where the budget stands, and how Indian country may be impacted.